Potensi Interaksi Obat pada Pasien Geriatri yang menggunakan AntiHipertensi di Puskesmas Karanggeneng Lamongan
Abstract
Background: Hipertensi pada usia geriatri yang menjadi penyebab pemberian berbagai macam terapi dalam satu resep (polifarmasi), sehingga meningkatkan potensi kejadian interaksi antar obat. Interaksi obat yang terjadi dapat ditinjau berdasarkan derajat keparahan dan mekanisme interaksinya (farmakokinetik, farmakodinamik)
Objectives: Banyaknya kejadian interaksi obat pada usia geriatri yang membutuhkan perhatian khusus dari seorang farmasis. Tujuan penelitian adalah mengetahui potensi interaksi obat pada pasien geriatri yang menggunakan antihipertensi.
Design: Desain penelitian ini adalah deskriptif dengan pengambilan data retrospektif, sebagai populasi adalah seluruh pasien geriatri(>60th) yang berobat ke Puskesmas Karanggeneng Lamongan periode Oktober 2019. Pengambilan sampel dengan tehnik non probability sampling yakni Consecutive Sampling dengan sampel yang diambil 129 responden (72 pasien yang masuk kriteria inklusi).
Data Source: Data diambil dengan menggunakan lembar pengumpul data,selanjutnya evaluasi dilakukan dengan mengkaji potensi interaksi obat antihipertensi masuk ke dalam kategori minor, moderate atau mayor, kemudian dengan mekanisme interaksi farmakodinamik atau farmakokinetik. Identifikasi interaksi obat dilakukan dengan menggunakan interaction checker pada drugs.com.
Results: Hasil penelitian menunjukkan potensi interaksi obat yang terjadi sejumlah 55,81%, dari total 129 pasien( 72 pasien inklusi). Jenis interaksi obat dengan tingkat keparahan moderate sejumlah 66,36%,dan mekanisme interaksi obatnya adalah Farmakodinamik 98,2%.
Conclusions
:
Lebih dari sebagian pasien geriatri mengalami potensi interaksi obat, diperlukan kolaborasi interpersonal dengan tenaga kesehatan khususnya dari seorang farmasis untuk dapat mencegah atau memberikan solusi terbaik demi peningkatan kualitas hidup pasien.
References
Babatsikou, F., & Zavitsanou, A. (2014). Epidemiology of hypertension in the elderly. Health Science Journal, 4(January 2010), 24–30.
Benetos, A., Petrovic, M., & Strandberg, T. (2019). Compendium on the Pathophysiology and Treatment of Hypertension Hypertension Management in Older and Frail Older Patients. American Heart Association, 1045–1060. https://doi.org/10.1161/CIRCRESAHA.118.313236
Budi Supraptia, Wenny Putri Nilamsari, Pharmasinta Putri Hapsari, Husna Arifatul Muzayana, H. F. (2014). Permasalahan Terkait Obat Antihipertensi pada Pasien Usia Lanjut di Poli Geriatri RSUD Dr.Soetomo, Surabaya. Jurnal Farmasi Dan Ilmu Kefarmasian Indonesia, 1(2), 36–41.
Davies, E. A., & O'Mahony, M. S. (2015). Adverse drug reactions in special populations - The elderly. British Journal of Clinical Pharmacology, 80(4), 796–807. https://doi.org/10.1111/bcp.12596
Fadare, J. O., Ajayi, A. E., Adeoti, A. O., Desalu, O. O., Obimakinde, A. M., & Agboola, S. M. (2016). Potential drug ‑ drug interactions among elderly patients on anti ‑ hypertensive medications in two tertiary healthcare facilities in Ekiti State ,. Sahel Medical Journal, 19, 1–6. https://doi.org/10.4103/1118-8561.181896
Fangky Sandy Maindoka, Deby Mpila, G. C. (2017). Kajian Interaksi Obat Pada Pasien Geriatri Rawat Inap Di Rsup Prof. Dr. R. D. Kandou Manado. Pharmacon, 6(3). https://doi.org/10.35799/pha.6.2017.16889
Gradman, A. H., Basile, J. N., Carter, B. L., & Bakris, G. L. (2010). Combination therapy in hypertension. Journal of the American Society of Hypertension, 4(1), 42–50. https://doi.org/10.1016/j.jash.2010.02.005
Harugeri, A., Joseph, J., Parthasarathi, G., Ramesh, M., & Guido, S. (2010). Prescribing patterns and predictors of high-level polypharmacy in the elderly population: A prospective surveillance study from two teaching hospitals in india. American Journal Geriatric Pharmacotherapy, 8(3), 271–280. https://doi.org/10.1016/j.amjopharm.2010.06.004
Hines, L. E., & Murphy, J. E. (2011). Potentially Harmful Drug – Drug Interactions in the Elderly : A Review. AJGP, 9(6), 364–377. https://doi.org/10.1016/j.amjopharm.2011.10.004
Hussein, M. (2014). Assessment of Drug Related Problems Among Hypertensive Patients on Follow up in Adama Hospital Medical College, East Ethiopia. Clinical Pharmacology & Biopharmaceutics, 3(2), 2–7. https://doi.org/10.4172/2167-065x.1000122
Kulkarni, V., Bora, S. S., Sirisha, S., & Saji, M. (2013). A study on drug – drug interactions through prescription analysis in a South Indian teaching hospital. Therapeutic Advances in Drug Safety, 4(4), 141–146. https://doi.org/10.1177/2042098613490009
Lionakis, N., Mendrinos, D., Sanidas, E., Favatas, G., Georgopoulou, M., Lionakis, N., … Favatas, G. (2012). Hypertension in the elderly. World Journal of Cardiology, 4(5), 135–147. https://doi.org/10.4330/wjc.v4.i5.135
Puspitasari, A. W., Azizahwati, A., & Hidayat, A. Y. U. R. (2017). ANALYSIS OF POTENTIAL DRUGS INTERACTION ON ANTIHYPERTENSION DRUGS PRESCRIPTION IN COMMUNITY HEALTH CENTER OF SUKMAJAYA DISTRICT IN PERIOD OF JUNE-NOVEMBER 2015. Asian Journal of Pharmaceutical and Clinical Research, 10(5), 1–5.
Robert L. Maher Jr, Joseph T. Hanlon, E. R. H. (2013). Clinical Consequences of Polypharmacy in Elderly Robert. NIH, 13(1), 1–11. https://doi.org/10.1517/14740338.2013.827660.Clinical
Roque, P., Neto, O., Nobili, A., Pereira, D., Júnior, D. L., Pilger, D., & Molino, C. (2012). Incidence and Predictors of Adverse Drug Reactions Caused by Drug-Drug Interactions in Elderly Outpatients : A Prospective Cohort Study. J Pharm Pharmaceut Sci, 15(2), 332–343.
Vesna Bacic-Vrca, Srecko Marusic, Viktorija Erdeljic, S. F., & Nives Gojo-Tomic, D. R. (2010). The incidence of potential drug – drug interactions in elderly patients with arterial hypertension The incidence of potential drug – drug interactions in elderly patients with arterial hypertension. Pharm World Sci, 32(May 2014), 815–821. https://doi.org/10.1007/s11096-010-9442-5
DOI:
https://doi.org/10.38040/js.v12i2.141
Refbacks
There are currently no refbacks.
Copyright (c) 2020 Jurnal Surya

This work is licensed under a
Creative Commons Attribution 4.0 International License
.
Fakultas Ilmu Kesehatan Universitas Muhammadiyah Lamongan
Jl. Raya Plalangan-Plosowahyu Km. 3 Kabupaten Lamongan Jawa Timur, Kode Pos 62218
 --------------------------------------------------------------------------------------
Journal Surya is licensed under a Creative Commons Attribution-ShareAlike 4.0 International License. © All rights reserved 2017. Journal Surya p-ISSN 1979-9128 ISSN Online 2715-064X

Journal Visitors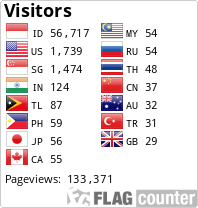 View My Stats